ARTS FOR LITERACY
SUMMER PROGRAM
This student-centered, creative, hands-on and arts-integrated approach to teaching and learning helps students engage and learn. We personalize student learning, integrate the arts into core content, and improve reading proficiency because reading is foundational to learning well in life. We help students get ready for their upcoming school year while preventing summer learning loss. And we have fun.

Monday - Friday | 8:00am - 5:00pm
For students entering grades K-3.
Cost: $50 to $600 per week

Financial Assistance is available!
We accept ELC vouchers.
We offer a sliding scale based on household income.
Access to enrollment is online or you can come in to have us help you.
Preventing the Summer Slide. Our Summer program encourages youth to stay active and to continue learning outside of the school year.
Application process is open now through June, 2021. First come, first served basis.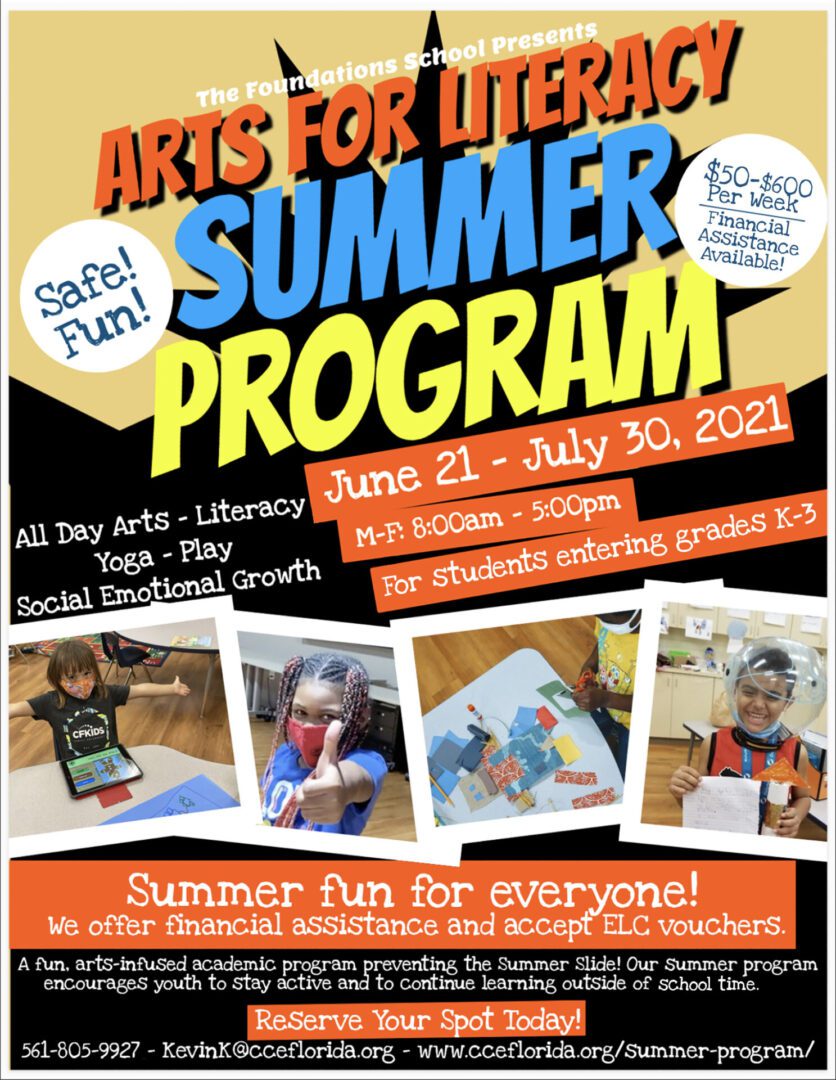 Program Goals: To provide a fun and academic summer program for students entering grades K-3.
Type of Program: All day arts, literacy, yoga, play, social emotional growth
Building facility: Large building, five classrooms, media center, gym, theater, art gallery
Neighborhood: Northwood Village, Palm Beach County. 
Capacity: Class size average of 10 students who are entering grades K-3.
Instructional: 5 Teachers in five classrooms
Administrative: 1 Principal, 2 part-time Teaching Artists, 2 para-professional educators
Did you miss our Open House in April? Don't worry, there's another one!
Saturday, June 12 | RSVP today to reserve your spot.
Families will receive a tour of the new school, have the opportunity to participate in a fun art activity lead by The Foundations School teaching artists as well as explore the art gallery at the school which will be curated with a selection of the student's work from the past semester.
Open House Photos from April 17, 2021
Did you miss the Open House? Don't worry, we are available to accomodate any questions you may have!
561-805-9927 / KevinK@cceflorida.org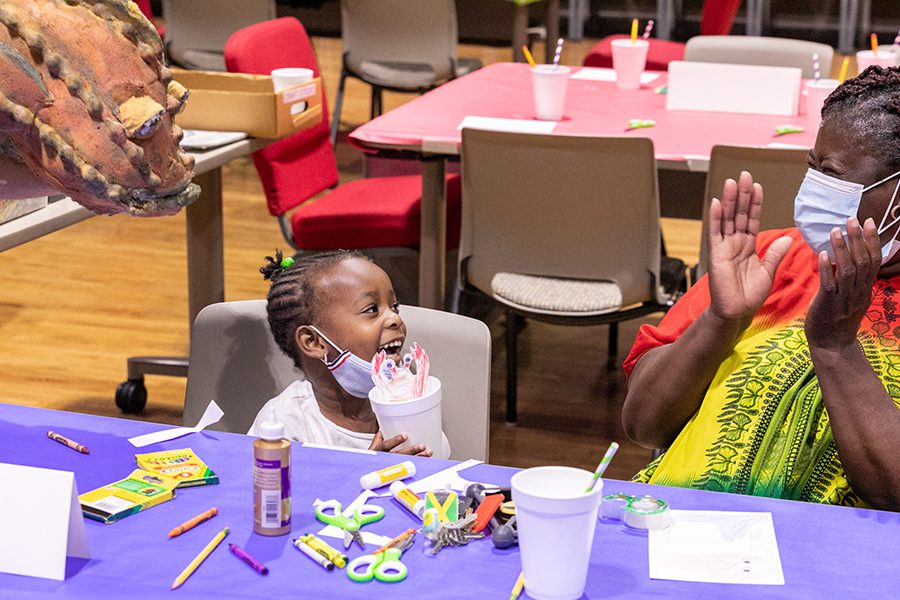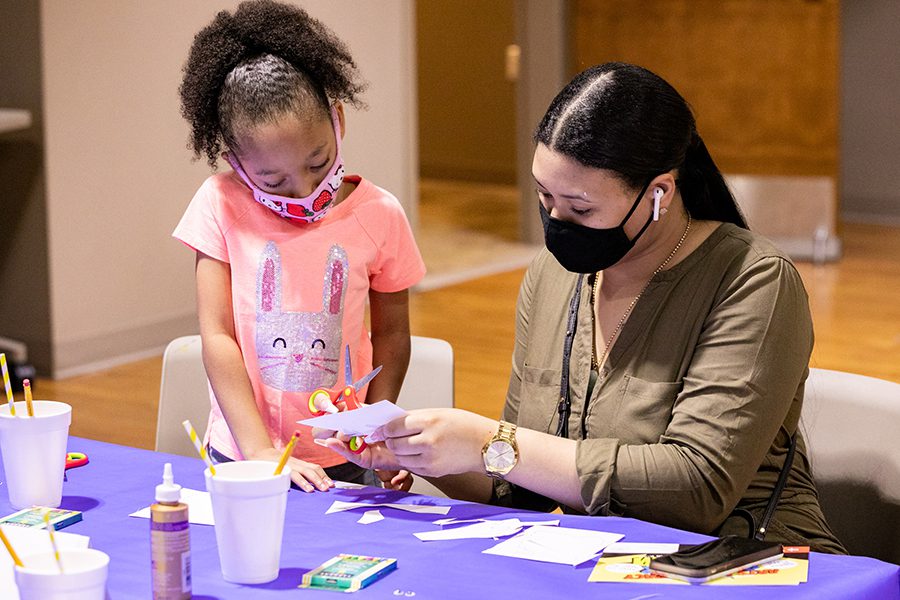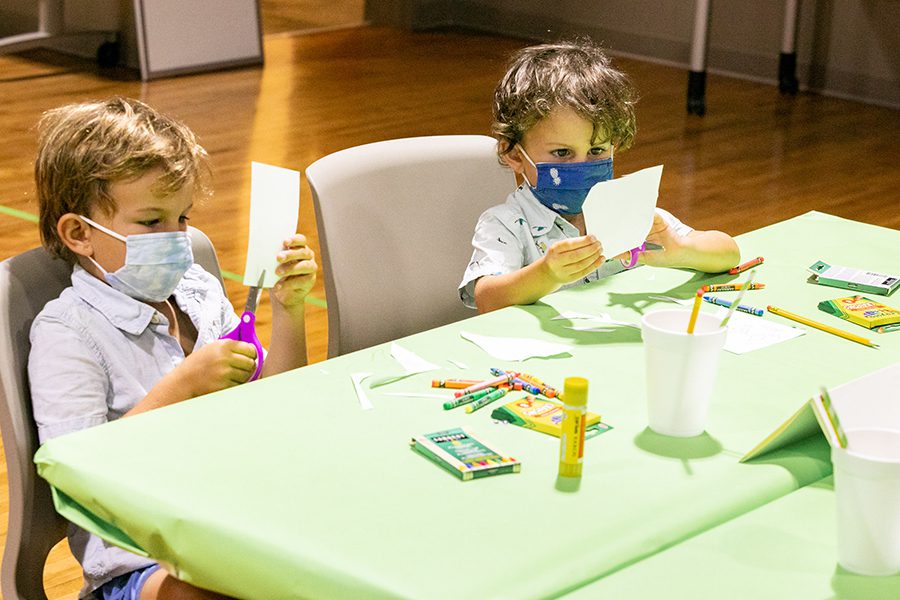 "By all measures, this summer camp was VERY successful. Academically and artistically, way more successful than those that we paid for in the several summers before."
-Parent, 2020 Summer Program
"My daughters had an excellent experience! …they always wanted to go to camp because it was always something fun to do!!! We loved it!!"
-Parent, 2020 Summer Program
"These kinds of programs are extremely helpful and necessary for our children. The amount of material learned in camp was amazing and my child was having fun learning. To have an in-person option was extremely helpful and productive. Thank you CCE for providing this experience for my child, we are eternally grateful."

-Parent, 2020 Summer Program
"These kinds of programs are extremely helpful and necessary for our children."
- Parent, Summer Program
"Here they still want to teach you, but they make it fun."
- Student, Summer Program